PERMANENT MAKE-UP

EYEBROWS

For who, why?
Repeated depilation, poorly furnished or asymmetrical eyebrows,
an unsightly scar, partial alopecia..., and permanent make-up appears as a matter of course. This technique makes it possible to redesign, or even completely restructure the eyebrow line, or simply to enhance it, in order to naturally embellish and sublimate your look.

The technique
Depending on your expectations, your tastes, your style and your characteristics (skin colour, hair, complexion, facial symmetry...), two techniques are possible. Shading done with a dermograph for a more assertive (sophisticated) make-up. Or the Microblading realized manually, more subtle and delicate. Shadowing consists of filling in the entire surface of the eyebrow without defining the contours. The result is denser and the powder effect remains natural. Ideal for masking old permanent make-up that is unsuitable or has changed colour. Microblading is a real "trompe-l'oeil" which consists in drawing lines that imitate the hair. Ideal for mixing with real hair. But it is also possible to mix the two techniques.

Lina Kong method
My credo being the "Natural", I recommend the Korean method, i.e. the microblading technique carried out manually.
In Asia, this is called "eyebrow embroidery" which is the finest form of eyebrow tattooing. Using a disposable microblade, I draw small lines on the surface of the skin (less deep than with a dermograph) in the direction of the hairs.
There is therefore less risk of ink spreading under the skin (blotter phenomenon), it is less painful and healing is faster. However, this method requires a certain dexterity, which is the reason why it is not systematically recommended in institutes. But it is the only one that allows you to achieve what is called "hyper-realism" when it comes to permanent make-up.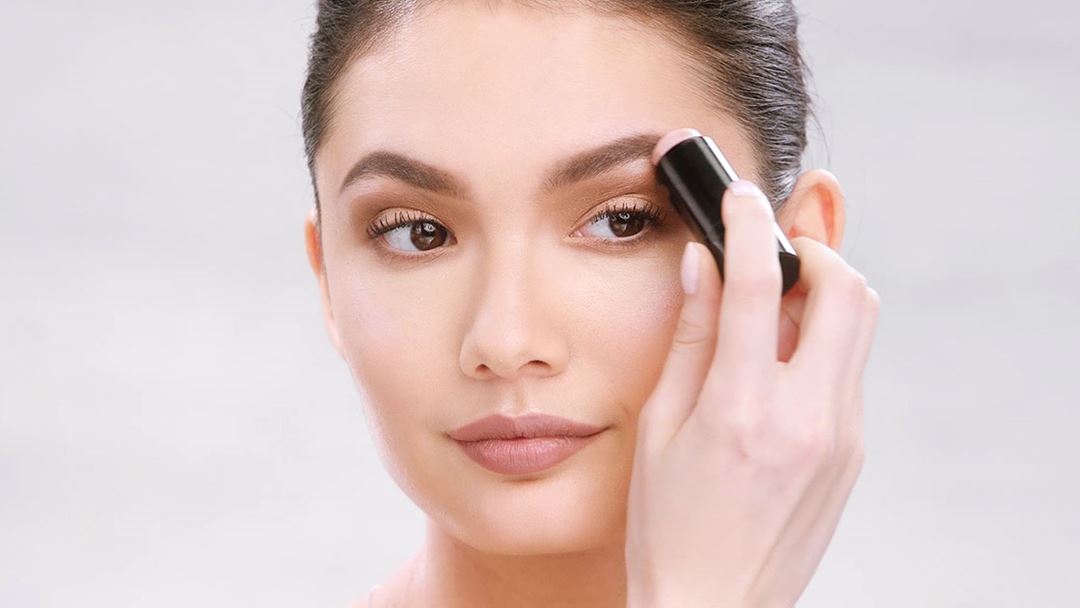 Beautiful eyebrows give depth to your eyes.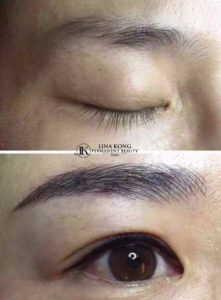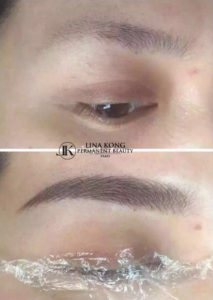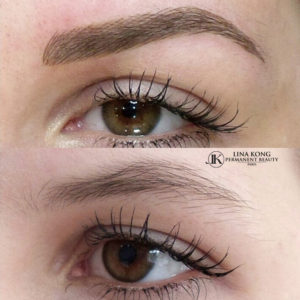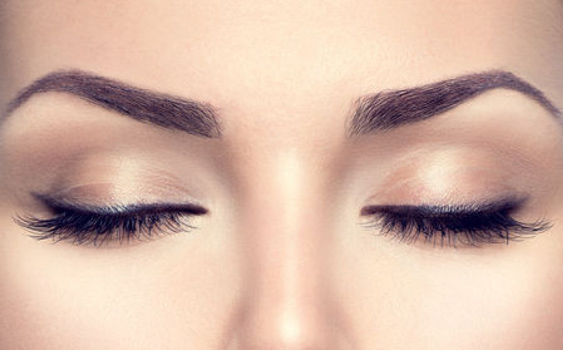 | | |
| --- | --- |
| Prestations | Prices |
| HYPER REALISTS : HAND MICROBLADING | 350€ |
| SHADING OR POWDER : SHADING OR POWDERED | 290€ |
| FINISH BROW : EYEBROW TAIL | 190€ |
| RETOUCHING / MAINTENANCE : 1 AN | 100€ |
| RESUME OR CORRECTION (FORMER MP DONE ELSEWHERE) | ON QUOTATION |